PRESCHOOL
YMCA PRESCHOOL LEARNING CENTER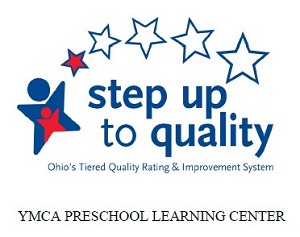 The YMCA's Preschool Program is for ages 3-5.
2021-22 PROGRAM INFORMATION
4 DAY PROGRAM
MON-THU
AM PROGRAM (Program Full)
8-11:30 AM

Family Member $140 Per Child
Youth Member $145
Community Member $150
Registration Fee: $60
FINANCIAL ASSISTANCE AVAILABLE & PUBLICLY FUNDED ASSISTANCE ACCEPTED
The State of Ohio has awarded this program a 1-Star Rating for meeting the quality standard established by the Ohio Department of Job and Family Services and the Ohio Department of Education.
The Tuscarawas County YMCA Preschool is a state licensed learning center providing a safe and healthy environment in which your child can develop independence, early learning, and social skills needed for kindergarten readiness. Activities are designed to aid in their development. Skills Include: introduction of letters and numbers, colors and shapes, and recognizing/writing the child's name. Daily job responsibilities are added as a tool in your child's learning process. Kids will explore new ways to enhance their learning process through music, crafts, and gym time. We take pride in teaching our core values of caring, honesty, respect and responsibility.
Contact Child Care Director Jade Boffo for more information jade@tuscymca.org