GYMNASTICS TEAM
Levels 3-7. Learn to love the sport of gymnastics at the Y. Competitive Gymnastics helps youth value hard work, reach for excellence and enjoy spirited competition, all while making new friends, improving skills and being active! Mandatory Skills for Team Tryouts (held in May): Pull over and back hip circle on bars, round off back handspring (with light spot) and back walkover on floor.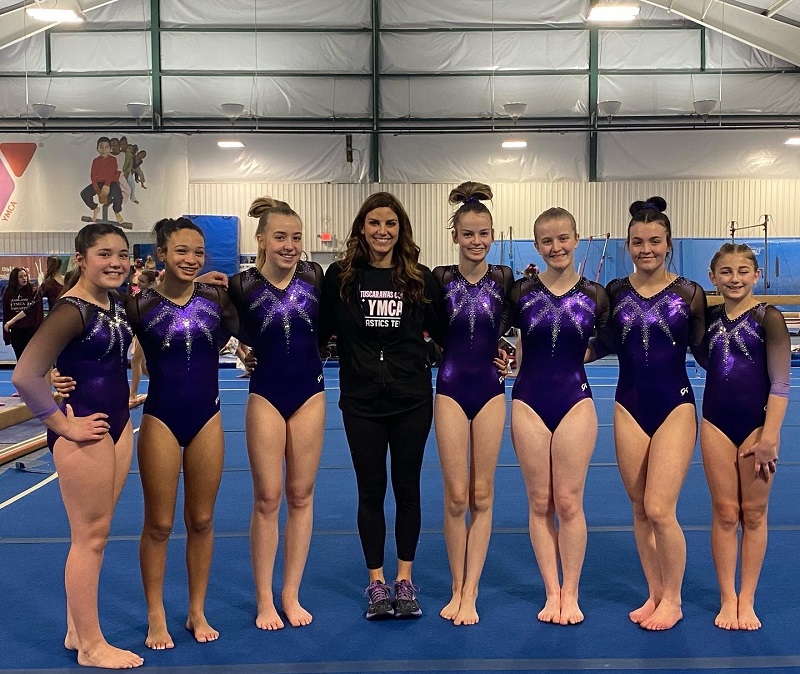 TEAM SEASON 2022-23
June-May
6-8 Saturday Meets per year
2 Home Meet
Away Meets usually within 75 miles
Team Commitment: Team members must have a current YMCA Membership. Additional Team Fee: Approx. $85-100 per month depending on Gymnast Competitive Skill Level. Team Leotard Cost $200 and Team Warm-up $65 (both good for 2 years depending on join date). Judges Fees: Level 3 Judge Fees-$160, Level 4/5 Judge Fees-$225, Level 6/7 Judge Fees-$270 (Judge fees pay for the registration for each competition). There are between 6-8 competitions per season. Competitions run from November-April. Gymnasts may also purchase optional team bag. Fundraisers opportunities offered to help with fees.
Parent Responsibilities: Concession stand food provision and operation, meet setup and teardown, fundraising.
Practices:
Summer Schedule (6/7/22-8/5/22)
Level 3: Mon-Wed 9-11:30 AM
Level 4/5: Tue 9-11:30 AM and Thu 5:30-8 PM
Level 6/7: Tue 5:30-8 PM and Thu 9-11:30 AM
All Levels: Sat 8:30-10:30 AM.
Fall Schedule:
Level 3: (6 hours a week): T/TH 4-6 PM and Sat 8:30-10:30 AM / $85 a month
Level 4: (7 hours per week): T/TH 4-6:30 PM and Sat 8:30-10:30 AM / $90 a month
Level 5: (7 hours per week): T/TH 4:30-7:00 PM and Sat 8:30-10:30 AM / $90 a month
Level 6/7: (8-9 hours per week): Tentatively - T/TH 4:30-7:30 PM and Sat 8:30-? AM / $95-100 a month
Our program is dedicated to the total development of each gymnast through proper learning progressions, form and techniques. Our coaches genuinely care and believe in successful, fun, learning experiences to develop exceptional athletes. We develop self-confidence, leadership qualities and the ability to work together while respecting the rights of others. The team competes in YMCA gymnastics on the local, regional and national level.

Click Here for Gymanstics Team Handbook & Code of Conduct and Social Media
More information contact Gymnastics Head Coach rachel@tuscymca.org
ABOUT THE COACH Team Head Coach Rachel Cummings Since the age of 3, gymnastics has been a part of Rachel's life. Rachel grew up competing in gymnastics and has been coaching gymnastics for over fifteen years. Before deciding to be a stay at home mother to her four children, Rachel taught at Midvale Elementary School for 10 years. She has coached and choreographed cheerleading, volleyball, and cross country as well. She is very passionate about teaching and working with youth.
Open Gym (See current Program Guide for days and times) One staff person will be available to help with skills/spotting. All equipment is available. No ability requirements. Gymnasts are in charge of their own practice and work on what they want to work on.

Private Lessions Call for appointment, 330-364-5511. Please see our Program Guide for pricing.
We put safety first
Sudden Cardiac Arrest Law ("Lindsay's Law") Signature Page
On March 14, 2017, Lindsay's Law became effective in Ohio. This new law addresses Sudden Cardiac Arrest (SCA) in youth athletes. SCA is the leading cause of death in student athletes 19 years of age or younger. SCA occurs when the heart suddenly and unexpectedly stops beating. This cuts off blood flow to the brain and other vital organs. SCA is fatal if not treated immediately.
The new law applies to youth sports organizations, which is defined as any public or nonpublic entity that organizes an athletic activity in which the athletes are not more than 19 years old and are required to pay a fee to participate in the athletic activity or whose cost to participate is sponsored by a business or nonprofit organization. The law applies to youth athletes who wish to practice for or compete in athletic activities organized by a youth sports organization.
Before a youth athlete in an athletic activity, the athlete must submit to the youth sports organization a form signed by the athlete and the parent, guardian, or other person having care or charge of the athlete stating that they have received and reviewed a copy of the guidelines regarding sudden cardiac arrest. A completed form must be submitted each year for each athletic activity in which the student or athlete participates.
Both the form and guidelines to provide to the athlete and parent are available for download at http://www.odh.ohio.gov/landing/Lindsays-Law.aspx.
Coaches also have the following specific responsibilities under the law:
Annual completion of the required SCA training course approved by the Ohio Department of Health. This training is available at http://www.odh.ohio.gov/landing/Lindsays-Law.aspx.
Preventing the following students from participating in athletic activities until the coach receives written clearance by a licensed health professional: (a) A youth whose biological parent, sibling, or child has previously experienced SCA, and (b) any youth athlete that experiences syncope or fainting before, during, or after a practice, scrimmage, or competitive play.
Removing from an athletic activity a youth athlete who faints or passes out before, during, or after the activity. Before returning to the activity, the youth athlete must be seen by a health care professional and cleared in writing.
The health care professionals who may evaluate and clear youth athletes are a physician (MD or DO), a certified nurse practitioner, a clinical nurse specialist, or certified nurse midwife.
The youth sports organization must establish a penalty for any coach that fails to comply with the above requirements.
As in the concussion law, the law provides that a youth sports organization or official, employee, or volunteer of the organization, including a coach, generally is not liable in damages in a civil action for injury, death, or loss to person or property allegedly arising from providing services or performing duties required by the bill. The immunity from liability does not apply if the act or omission constitutes willful or wanton misconduct.