FITNESS CLASSES / YOGA / GROUP CYCLING
We offer a full line of Fitness Class from Yoga to Strength Training.
Fitness Classes are FREE for MEMBERS!
Others-Drop in rate $10 per class.
Childwatch is available and is free for Members. Others may purchase a pass at MSC.
Duration: Most classes are approx 45 - 60 min
Safety Guidelines
Wear proper fitness attire and athletic foot wear.
Please bring a towel and a water bottle to stay hydrated.
Keep your area clean. Wipe up spills and clean equipment after use.
Please speak to the instructor after class if you have any questions or concerns. We want your class experience to be the very best.
Our fitness classes are designed for adults but we welcome children that are able to participate in the activity safely and follow guidance from the Instructor
Class Etiquette
Be on time. Participants are encourage to arrive 5-10 minutes prior to class. Do not enter area until previous class is finished and participants have exited.
Stay focused. Limit talking to before and after class. Talking during class is distracting to yourself, others and the Instructor.
Please silence your cell phone prior to class and exit classroom area to use phone if needed.
Avoid wearing perfumes or highly fragrant lotions to class. Many people are highly sensitive to smells, especially those with asthma.
Please do not attend class if you are not feeling well.
Dress Code for Fitness Classes and Fitness Center*
Please dress modestly and remember that we are a family facility.
Tops: Tank tops and sleeveless shirts should cover the chest and midriff.
Bottoms: No excessively short-shorts. Our goal is that shorts should be mid-thigh in length.
Footwear: Clean appropriate athletic shoes must be worn. No open-toed shoes in wellness center.
Messages on Clothing: Clothing or jewelry that displays vulgar or hateful language, prejudices, or immoral behavior are not appropriate.
* The YMCA reserves the right to define inappropriate/offensive attire. If we feel that attire is contrary to our core values, we may ask you to change and/or leave the facility.
Download a Workout Tracking Card / PDF or Word Doc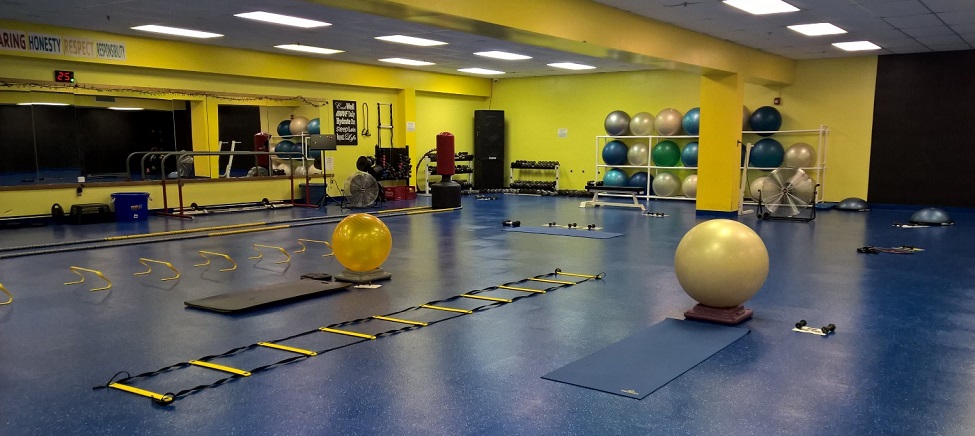 CLASS DESCRIPTIONS
Cardio Mix
See Fitness Schedule on prior page for other details on styles.
Every Body Fitness
Cardio dance fitness plus floor exercise focuses on glutes/abs. Low Impact.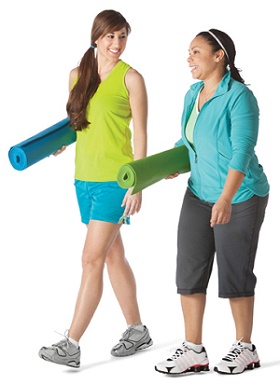 Fit & Strong
Our certified personal trainer will take your fitness goals into account and help you to stay committed to them in a fun and efficient way. Group setting. Encouragement, motivation, and accountability. Bodyweight exercises along with dumbbells, kettlebells, Bosu Balls, bands, ropes, weighted balls and large fitness balls.
Group Cycling
All levels/Max 11 Classic Spin: Lower Body/Cardio endurance class. Music motivated and adaptable to all levels of fitness. Please bring water bottle and arrive early to set your bike.
Circuit Style includes strength segment. Registration on bikes are First Come / First Serve. Please get a number at the Member Service Center for your bike starting 20 min prior to class.
Bike & Barre: A combination of Spinning and the barre workout. The barre technique is a workout routine that combines elements of ballet, Pilates, yoga, and light weight training into an efficient and effective workout
LaBlast
A revolutionary dance fitness program, based on all the dances you see on "Dancing with the Stars" that fuses dance into a serious calorie burning workout.
Strength Training with Weights
Strength/Weights. Personal Trainer led. Great for anyone looking to learn or challenge their strength. Lift using free weights, kettlebells, bars, etc.
Step and Tone
This class is all about the being lean and strong. Class uses Bands, Weights, Bosu & Stability Balls).
Total Body Strength
Tuesdays are traditional lifting styles using heavier weights with slower, fewer reps. Thursdays are rep effect and metabolic resistance weight training styles using the barbell and dumbbells. Sculpt lean muscle while building strength, power and endurance. Core strength and stability training included. Saturday class is all about variety and intensity in your workouts. Routine caters to all fitness levels with simple athletic movements.
Zumba Fitness
45-60 Min Easy to follow Latin dance moves and motivating rhythms.
YOGA CLASSES
Chair Yoga
Limited Seats
Complete series of seated and standing yoga poses. Chair support is offered to safely perform a variety of seated and standing postures designed to increase flexibility, balance and range of movement.
Shoe friendly.
Gentle Yoga
Basic Yoga practice for flexibility and strength. Standing, kneeling, sitting, lying down poses.
Yoga
Challenging poses for strength, balance, & intensity.