FITNESS CENTER
Motivating You To Success
Every day, people join the Y, motivated to get healthier. But sometimes they need a little extra help and support to reach that goal. Our personal trainers will make sure you get a personalized program designed to help you achieve your goals. We focus on an approach that is safe, efficient, easy-to-follow and helps you stay motivated. Whatever your goal, our expert personal trainers provide plans, coaching and motivation to help you succeed.
Benefits Of Personal Training
Structure – Meeting your Personal Trainer for appointments helps create weekly exercise routine that fits your schedule.
Variety – They will keep your training interesting with different exercises and techniques to keep you on track all aimed at achieving your goals.
Motivation – Progress means results, and seeing results helps motivate you to strive for that next level of fitness.
Progression – As your fitness improves, your Personal Trainer will always modify your exercise to ensure maximum enjoyment and maximum results.
All of our personal trainers are nationally certified and have extensive experience creating programs that work for our members and guests. Your programs will be tailored to your specific needs, wants and goals. Besides our normal personal training options we also provide Skill Set Training and personal aquatic coaching.
Looking for a GREAT PERSONAL TRAINER?
Meet the Trainers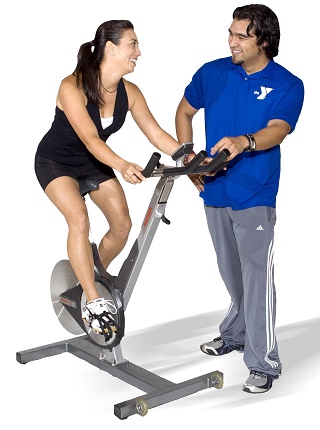 ANGELA PAVLIDES (PHOTO)
YUSA Certified Personal Trainer, Certified Strength and Condition Coach, Sports Conditioning Certified, Certified Group Exercise, and Certified Spinning Instructor. Over her many years of service, Angela's diverse fitness instruction experience provides you unique, professional guidance for your health objectives. Should you be recovering from injury or medical procedure, facing daily challenges such as Cerebral Palsy, Parkinson's, obesity or Diabetes, or you wish to seek strength training and general conditioning, Angela will approach your fitness program in partnership with you. She retains her business and loyalty through her genuine caring for each client; be it at the Wellness Center or being accessible around-the-clock for added support. Yes you can! With Angela you can enhance your strength, balance, endurance, dexterity and overall health.
SHANA ANGEL (PHOTO)
Certified Personal Trainer & Group Exercise Instructor. Physical fitness and activity have been a passion for Shana her whole life. Growing up as a competitive figure skater she spent her formative years learning how to train her body for peak performance. These lessons have followed her since then and she is excited to help you meet your goals. Shana became an ACE personal trainer in 2020.
As a Personal Trainer, Shana is ready to help clients of all ages and abilities to really understand how their bodies work and how to best use them to reach their fitness goals. Her Master's Degree specializing in Extension (non-classroom research based) Education, giving her the background to communicate research-backed information with clients. Her heart lies in helping people fall in love with taking care of their bodies. No fitness goal is too small to start with!
NATALIE HOANG
RYAN HURSEY
NOTE: Independent Personal Trainers are not permitted to provide personal training appointments at our facility