WELLNESS CENTER
TURKEY TROT
9 AM Thanksgiving Day / Click here for 2020 Route
Download a Workout Tracking Card / PDF or Word Doc
Looking for a GREAT PERSONAL TRAINER?
We've Got Them!
Click Here for Personal Training Program Informaton and Personal Training Forms
Meet the Trainers
JASON EICK-Health and Wellness Director (PHOTO)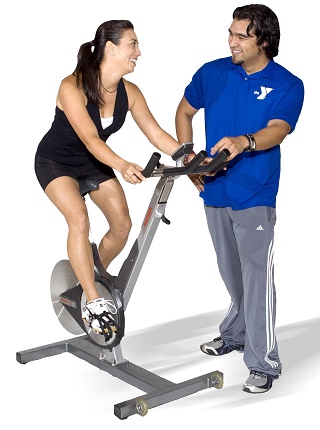 Certified personal trainer, strength and conditioning coach, and a group exercise instructor through the National Personal Training Institute (NPTI). As the owner of his own gym for three years, Jason worked with clients whose goals included weight loss, increasing strength, creating a healthier lifestyle, and building muscle. Jason has been a Y member for years and is now excited to bring his expertise and love for fitness to his personal training clients here at the YMCA.
DANA RANDAZZO (PHOTO)
NETA and YUSA Certified Personal Trainer, YUSA Certified Group Exercise Instructor, NETA 360 Cycle Coach, METApwr Coach, CPR/AED Certified, Macro Coach . Dana has 15 years of personal training experience.
Dana's fitness plans are unique to your goals and emphasize the importance of posture, breathing , overall balance and core strength. Dana encourages you to be efficient with your time and energy, enabling you to have continuous commitment to your fitness goals. she will bring compassion and motivation to each client and never forgets the importance of fun.
ANGELA PAVLIDES (PHOTO)
YUSA Certified Personal Trainer, Certified Strength and Condition Coach, Sports Conditioning Certified, Certified Group Exercise, and Certified Spinning Instructor. Over her many years of service, Angela's diverse fitness instruction experience provides you unique, professional guidance for your health objectives. Should you be recovering from injury or medical procedure, facing daily challenges such as Cerebral Palsy, Parkinson's, obesity or Diabetes, or you wish to seek strength training and general conditioning, Angela will approach your fitness program in partnership with you. She retains her business and loyalty through her genuine caring for each client; be it at the Wellness Center or being accessible around-the-clock for added support. Yes you can! With Angela you can enhance your strength, balance, endurance, dexterity and overall health.
OMAR GARCIA (PHOTO)
Certified Personal Trainer & Tai Chi Instructor. Omar has been working at the Tusc County YMCA for several years but has recently started personal training after becoming ACE Personal Training certified in December 2017. He is comfortable with all age groups, whether teaching water fitness classes for adults or swim lessons for children. His experience in water exercise opens up a unique opportunity to train in water also. After being overweight for much of his childhood he lost 60 lbs in 2003 and has been dedicated to a healthy lifestyle since.
SHANA ANGEL (PHOTO)
Certified Personal Trainer & Group Exercise Instructor. Physical fitness and activity have been a passion for Shana her whole life. Growing up as a competitive figure skater she spent her formative years learning how to train her body for peak performance. These lessons have followed her since then and she is excited to help you meet your goals. Shana became an ACE personal trainer in 2020.
As a Personal Trainer, Shana is ready to help clients of all ages and abilities to really understand how their bodies work and how to best use them to reach their fitness goals. Her Master's Degree specializing in Extension (non-classroom research based) Education, giving her the background to communicate research-backed information with clients. Her heart lies in helping people fall in love with taking care of their bodies. No fitness goal is too small to start with!

Other Availabe Trainers: Nicole Sears
NOTE: Independent Personal Trainers are not permitted to provide personal training appointments at our facility.