TWIN CITY YOUTH CLUB
TCY CLUB Twin City Youth Club
Totally Cool. Totally Caring. Totally for Youth!
Fun activities, games, and food. Come play, hangout, meet new friends, and enjoy the summer sunshine with us. All youth welcome. Kids under 5 must be accompanied by an adult. YMCA mentor on staff. Club Goal: To provide a safe place where caring, honesty, respect, and responsibility are inspired through fun games and activities that build the spirit, mind and body. A place for kids to thrive.
Summer Lunch Hours Monday-Friday 11:00 AM-1:00 PM begins Jun 1
Summer Meeting Location: Thornwood Park 5155 Park Ave, Dennison
(Rain or Heat Advisory Location: Park Christian Church)
This program is made possible through a partnership with Park Christian Church.
For more information or to become a program volunteer, contact YMCA Youth Program Coordinator Elizabeth Sickinger at 330-364-5511 or elizabeth@tuscymca.org
AFTER SCHOOL CLUB
Food and Fun
Monday-Friday 3-4:30 PM with meals and indoor activities.
Click Here to See Your April/May 2021 Newsletter | January 2021 Newsletter | December Newsletter | November Newsletter.
Program Location: Park Christian Church
236 Miller Avenue, Dennison

YMCA AFTER SCHOOL CLUB FORMAT:
Program door opens at 3 PM. Children ages 1-18 are invited to participate. Children under 5 year old must be accompanied by an adult.
Sign in and food service provided from 3-3:45 PM.
Child Meals-To-Go are available 3-3:30 PM.
Entrance door closes at 3:45 PM so that games/activities can begin in the gym. Activities end at 4:30 PM but participants are free to sign out at anytime.
We teach nutrition and exercise to each of our kiddos plus play games that encourage teamwork, sportsmanship, and creativity. YMCA core values of caring, honesty, respect, and responsibility are the foundation of our teaching.
Due to Covid-19 we are requiring all school-aged participants to wear a mask. All who enter the program will be temperature checked upon sign in. Hand washing and hand sanitizer are frequently used. Safety is our top priority. Please contact us immediately if your child is sick or quarantined due to Covid-19.
CANCELLATION POLICY AND RULES
Due to Claymont School district being remote learning we will follow the Tuscarawas YMCA policy for any cancellations. We will closely monitor our Twin City program for illness. Safety is our top priority. Staff and students are required to wear a face mask in our program. If you are not already on our REMIND app please request to be a part of our group. (After School Food Program Dennison). I will be sending out updates and information through it. Don't forget to check out our Facebook page, and the Tuscarawas YMCA website for additional updates.
Program will run 5 days a week. (Monday – Friday)
Exclusions are (New Year's Eve, New Year's Day, Easter, Memorial Day, Independence Day, Labor Day, Thanksgiving, Christmas Eve, and Christmas Day)
If Claymont has a snow day or in-service day we will still have our program (check Remind, WJER, and WTUZ radio for cancellations)
Covid closures for the program you will be notified via Remind.
We know these are challenging times. The only way we will get through this is together. We are here for you and your children.
PROGRAM STRUCTURE:
Doors open at 3:00pm
Meals are served from 3:00-3:45pm
Carry Out meals are available from 3:00-3:30.
Everyone must wear a mask unless they are eating, drinking, or actively exercising. Students that enter will have their temperature checked and are asked to go wash their hands for 20 seconds. Once completed students can chose a seat, and milk will be served. Students are encouraged to try out the activity that is placed with their meal. Every student is responsible for cleaning up their area once they have finished eating. Each staff member is encourage to greet each child by name and make them feel welcomed.
Lessons will begin at 3:45, we will re-sight our positive affirmations, go over games and rules for the gym, and sanitize our hands before lining up.
Gym Games will begin at 4:00pm. We will begin with our warm ups, and then wait for further instructions to begin our game. Games will end at 4:30.
4:30 kids line up and sanitize their hands. Staff will announce that if anyone would like an extra meal to take home to go downstairs. As a group we all re-sight the positive affirmations before leaving. Thank each child for coming to the program, and make sure everyone has left the building and is off the premises.
Staff cleans up, locks up, and heads back to the Y.
STUDENT CODE OF CONDUCT AND CORE VALUES
I will be respectful, I will be kind, I will be caring, I will be honest, I will follow the rules, I will do my best and if I fail I will learn from my experience and pledge to do better the next time.
I will be a friend and accept the responsibility to be a helper, making the program a great place to be for all.
PROGRAM STAFF:
Site Coordinator: Elizabeth Sickinger
YMCA Program Director: Jade Boffo

We encourage feedback and testimonials please feel free to email kathleen@tuscymca.org with any questions or encouragement..
If you want more information or have questions regarding this program please contact YMCA Youth Program Coordinator Elizabeth Sickinger at the Y. Elizabeth@tuscymca.org or call 330-364-5511 ext 312.
Bio Interview: Elizabeth Sickinger, YMCA Youth Program Coordinator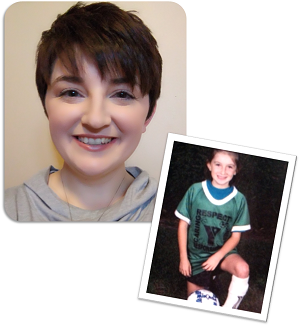 "The YMCA has always held a special place in my heart." As a youth Elizabeth Sickinger grew up at the Tuscarawas County YMCA participating in the youth sports programs. As a young adult Elizabeth became a member and utilized the fitness classes that are offered at the Y. Her family made it a tradition to compete in the annual YMCA Turkey Trot 5K to kick off the holiday season. Elizabeth is a graduate of New Philadelphia High School and Kent State University. She first joined the YMCA staff as a Member Service Associate in 2014 and held that position for three years during her college years before leaving to pursue a career. She returned to the Y in 2020 accepting the position of Youth Program Coordinator who's main responsibility is for the Twin City Meal Program.
"Being back has felt like coming home. Each day I enter the building I am greeted with smiling familiar faces and new faces. I work mostly in the Twin city meal program. It has truly been a privilege getting to know the kids in the program. I am grateful to be surrounded by incredible directors, coordinators, and team members. Everyone truly works together to encourage and make the Y programs successful" states Sickinger.
Elizabeth is married to her college sweetheart Daniel, and they live in Dover, Ohio. They have two rescue dogs Scarlet and Charlie. In her free time Elizabeth enjoys hiking, golfing, mission trips to Kentucky, and spending time with friends and family.